I recently read a detailed summary of a day at The Center of Living at Duke University from the perceptive of a patient in the lung transplant program. It reminded me of my days there from 1/27/11 through 5/3/11 prior to my lung transplant. I relieved my days so much that I asked Susan Traxel Martin, the author of this document, if I could publish this on my blog. I am going to post this in a few sections due to the length. However if you ever wonder what a day is like for people in the lung transplant program at Duke University or you know of anyone in a pulmonary program this will give you an insight as to their daily challenges. In my opinion, it does not matter if you have COPD, Cystic Fibrosis, Pulmonary Fibrosis or any other lung disease. It seems that we all experience very similar physical and mental challenges at The Center for Living as mentioned in Susan's summary. Thank you Susan for putting these experiences into words!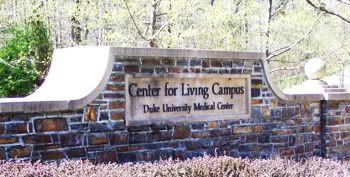 I recently began actively making preparations for double lung transplant surgery by starting the intensive physical therapy program at Duke's Center for Living. All lung transplant candidates are required to attend 23 full sessions of Duke's specialized and personalized exercise program, which prepares patients for the actual surgery and recovery. These sessions are from Monday through Friday, 12:30 to 3:30, and then 2-3 times a week we stay an additional hour for lectures. Many of the exercises are designed to strengthen the body in preparation for specific physical tasks and activities encountered during the time patients are in the ICU and Step Down "In-patient recovery stages" of post-transplant hospitalization. For example...making us do squats will enable us to go to the bathroom by ourselves. Bet you never really thought about how strong your legs need to be in order to lower and raise your body from a toilet seat. Actually, by the time patients find themselves in end-stage lung disease, even the simplest of tasks become enormous mountains to climb over. Things we previously took for granted such as washing our hair in the shower, now take monumental effort and we are exhausted after bathing, brushing hair and re-dressing. The simple act of tying sneakers or picking up something dropped can be a challenge because bending over is quite difficult for COPD patients due to the over-crowded conditions of our chest caused by the expansion of diseased lungs.
So... I am now on day 17 of 23 required sessions before transplant. I was fairly strong to start with, unlike many other patients who have different medical diagnoses such as cystic fibrosis or pulmonary fibrosis. No two people experience the same thing or are on the same level. I do feel quite fortunate to be as strong as I am. I have had to stay in shape for my job as a park ranger, training for personal protection and physical endurance of foot patrols, and walking boundary lines. Of course I have been on light duty for more than two years, and the prednisone steroids I have had to take caused me to gain weight and lose muscle tone, but it is all coming back nicely and the weight is slowly leaving. I sometimes feel like I am on the Biggest Loser show...only my program is The Biggest Winner Club of Duke Lung Transplantees!
Our day's journey starts by getting ourselves ready to go to the Duke Center for Living's Health and Fitness Center. We start hustling around in our temporary homes around noon to get ready to go. We either want to be able to volley for a good parking space, or be dropped off by a caregiver. I like to park in a place that is shady when I come out in the late afternoon, so I plan ahead. I tend to get there a bit earlier than most of the afternoon crew. The place is already hopping with folks in other activities so the parking lots are nearly full. I have to trudge up the hill (in order to leave handicap spots for those who really struggle or require assistance in mobility). I recently decided to buy my own mat and leg weights and dumbbell weights, so while making my way up the hill I am carrying my mat, a bag of the HEAVY weights, and of course, my ever-present backpack with my oxygen tank, books, ID card, snack, water bottle, gum, therapy stretch band, extra cannula (nose hose), loop of beads, chewing gum and whatever I have brought to entertain me for the next 4 hours. It makes for a long and struggling walk and I am usually majorly outta breath by the time I get to the building. However, I look at the bright side. This extra 25 pounds I am carrying around will help me strengthen bone density and help fight the osteopenia a bit more than just taking calcium and Vitamin D. For someone who never knew what a calorie was or cholesterol, nutrients and supplements were up until a year or two ago, I sure have come a long ways into knowing stuff that helps keep me strong and healthy! Love my almonds, walnuts and pistachios (but do wish they were Reese's Pieces, Brach's Candy Corn and caramel Rolos instead)! There is another plus to hauling all this weight around on my back and that is to help strengthen me for my celebration mountain hiking goals post-transplant next year. I've already signed up for The Great Girl Scout Hike on a section of the Appalachian Trail. I must be a glutton for punishment! LOL
There are approximately 35 people in my current "23 day" group consisting of both pre and post-transplant patients. There are another 40 or so who already graduated from the initial 23 day requirement, but are taking advantage of a graduate program to help them stay in shape until they are either listed or transplanted, or well enough to leave. The group size is always changing as people come in to the program, get "the call", or return after being released from the hospital for their final 23 days, come for tests, medical issues, etc. Some people have to have additional surgery to help protect the lungs through a stomach wrap procedure before they are released. This helps eliminate acid reflux from damaging the fragile lung tissue so they will continue in the graduate program if needed. Everyone HAS to do the "23 days" both before and after surgery. The graduate program on both ends is optional but highly recommended to remain a viable candidate and make for a speedier, healthy recovery.
Arriving at the building breathlessly, I pray someone sitting by the door will press the automatic door pad to save me the extra steps....and I am struggling with breath too much to try to pull the heavy doors open too. Great! Someone is leaving and they can hold the door. I can tell you one thing, I will, from here on out, ALWAYS, ALWAYS, ALWAYS hold doors for seniors, people with disabilities and anyone who looks like they could use a little assistance. After transplant I will even LOOK for opportunities to help someone in a parking lot, by volunteering to take the cart back. Man, oh man, is that ever hard for me after unloading groceries or packages at a store into my vehicle. IT is so exhausting. By then, I am feeling like I am suffocating and can't take another step. I can barely make it to my car seat in order to catch my breath. I have had about 3-4 people see me struggling and offer to help...which was VERY hard to accept - but I will NEVER take opening doors and pushing carts for granted again.
(I put this in bold because this paragraph moved me the most. It is a sentiment I felt almost every day when I walked through those doors. But don't worry, post-transplant you will be more than happy to open those doors on your own!)
After checking in to the center by scanning my ID card, I grab a couple towels, head to the women's dressing room to weigh myself, stop by the counter and get a pair of medical gloves (required to help keep us free from passing or getting germs from equipment). I look for the milk crates filled with clipboards and attached pencil on a string and check to see if the pencil stub is relatively sharp, if so, I claim it as mine. I do wish the pencils were sharpened more regularly. Thank goodness knives are not banned in the gym! I, and others, reach for a pen-knife on occasion. How would we ever cut up our apples and oranges and sharpen our pencils? I must admit as I watched one patient sharpening his pencil today, I wondered if he would ingest lead at snack time! LOL Okay, so they are made of graphite, not lead…but it's what I thought!
I have to swap out my oxygen tank for one of theirs because no two oxygen delivery styles are exactly the same. Duke says we are all required to use their "E" tanks for convenience and quality assurance. Some people use walker/seat combination carts for stabilization, which will also carry their tanks, while the rest of us have to drag our tank burdens behind us. Depending on lung function, some patients may need to haul more than one tank at a time in order to sustain the high level of oxygen needed. If we are lucky, the two large class sizes and patient level make-up will leave enough equipment for everyone. Otherwise, some equipment swapping will be done during the floor exercises. That's another reason I like to get there early. I can get a tank cart with a long enough handle to make my dragging posture more comfortable, and not require me to slouch because it is too short. I learned that lesson the hard way; the adjustable handles are not always what they seem to be. It takes a few seconds of unwinding myself from the length of hose I am trying to connect and fasten to my face. I have grown very comfortable to this medical contraption and it feels really weird if it isn't on. I can always tell when something is "wrong"...not to mention the fact that long term deprivation of Oxygen leaves me sucking for air a bit more passionately. I make haste to swap out.
Once all that is done I take a seat alongside the other patients and wait for the staff to begin their routines. They come by with our medical charts in hand and start drilling us with questions.
"Do you have a clipboard yet? Are you in pain related to this program?
Where? On a scale from 1 - 10 how would you rate the pain? Do you
have to take your blood sugar? What were your readings? How much
did you weigh today? What level oxygen are you on right now? Give
me your finger.(How much is my oxygen? I wonder.) It's 96 percent.
That's pretty good (I think: "96%? Well, you shoulda took it when I
stumbled through the door a little while ago!!!!" ) Okay, let's get your
blood pressure now."
And so it goes...until all 35ish of us are done.
If check-in is done quickly, we still have to wait to get started on our exercise. The graduate class is out on the floor and we have to wait until they are finished. Once we all see their group stand and start gathering up their belongings, it looks like a homestead stampede is occurring. Movement escalates as the seated group begins to rise and shuffle their way towards the center gym floor. My group is so intent in seeing if they can get a piece of prime real estate on the floor and is the cause for the jam. What inevitably happens is that one group is trying to get in between the lines of machines while the other group becomes trapped and blocked as they try to exit and wiggle past.
The first group doesn't have to clean and put away their equipment when they are pooped from the workout...I guess that is a privilege of being a graduate. But after a couple of classes of wiping down other people's equipment, spreading towels out on the mat and afterwards juggling to put it all away…I just went to Wal-Mart and bought my own weights and mat. Voila! I no longer have to worry about spreading my germs and can save my energy to use somewhere else. I don't have to wait in line to put my stuff away. I can go sit and start my snack while others tend to their clean up. Selfish perhaps, but I just see it as being wise. I plan on exercise being a major component in my future, so buying the equipment is an investment towards my future health…in more ways than one!
And now the REAL work begins.
On day number one, we have to just sit in a chair and observe everyone else. That way we will have a better time of understanding instructions the following day while lying on the mat. On my first day, I chose to raise my arms and legs along with the group while sitting in the chair. It was hard just sitting. I was really antsy to get down on the floor too. I have been doing exercise at home on my treadmill and bike, workouts with Christian Fitness TV and tapes, and rehab one day a week at my local hospital for two years…so I was really raring to start.
We all strap on leg weights…I am pretty strong so I started with 2 lb leg weights instead of one pound and I just got moved up to 3 pound this week. They are NOT designed for walking…they (and therapy bands) are designed to provide resistance during leg lifts and ankle rotations. We also use the dumb bells to increase our arm strength. We have trainers who guide us through a solid non-stop one hour workout. Every day a different staff member leads us thru the workout from their mat in the middle of the gym, which is surrounded by a circle of dozens of mats spread more than arm distance apart. The patients tend to set up where they find space and after a couple of days they inevitably lay unspoken claim to their turf. I flipped and flopped the first week or so while I tried to "find" my space. Some locations I laid my mat under were in direct line of the air vents. Anyone who really knows me KNOWS I can't stand being cold. I survived the exercises by placing my towel over me like a blanket. I used more calories and did more wiggling trying to adjust the towel with each exercise than the weights probably used up. LOL Other times, I found myself directly under a light. Again, anyone who knows me KNOWS bright lights hurt my eyes. – To get enough light needed to brighten up the gym requires way more "Brightness" lumens than I am comfortable with. Even with eyes closed it seems to penetrate the fine skin of my eye lid. I didn't want a headache, so I used my stretchy thera-band as a pseudo blindfold by draping it over my eyes. If it was thera-band time…I used the towel that was supposed to support my head as a face covering instead. I think the staff finally figured it out because they use mood lighting most of the time now. (Thank you staff, especially David!)
Back to the trainers. Duke Center for Living staff are the most awesome people I have ever met. They are helpful, knowledgeable, and determined to help you have a successful operation and recovery. They KNOW their stuff. I like the fact that each day a different person leads the floor exercise instruction because each has their own specific style and area of the body they like to work out on. The routines are all fairly similar, but the trainers add their own twists. We have days that seem tougher than others….because some trainers are "grueling and unmerciful" (again, thanks David) while others use a slower pace with more breathing opportunities built in. But you know the saying, no pain…no gain. That goes for sweat too! I finally found out what that is! I have noticed how attentive the staff is to our needs: always checking the level of oxygen in our tanks, asking how we are doing, providing smiles of encouragement, assisting with equipment. They just represent customer service at its highest levels. I have NEVER seen anyone grumpy or upset. They all seem to really enjoy their work and it shows.
I have to laugh sometimes because you can really tell that, although they are all respiratory /physical therapists, none have them have apparently ever been short of breath before. They are "normal" breathers and sometimes their instructions reflect this "handicap" of theirs.
(Ha-ha, normal breathers are handicapped. I like this.)
I mentioned to a fellow patient one day that I love the work-outs but the breathing rate is a joke. Who amongst us can honestly breath like them at our stage? They like to give us step-by-step instructions via microphone so we all can lay and do it without having to look to see what they are doing. The instructions are, for the most part, well-choreographed. It is very important that proper breathing be utilized instead us all developing habits of holding our breath during difficult times, so they provide breathing guidance.
I don't know if you, the reader, has ever dealt with breathlessness, but in order to balance our oxygen and carbon dioxide exchange, particularly for COPD patients, it is important to use diaphragmatic breathing. We breathe in through our nose for 2 counts (because we don't have enough lung volume space left for taking any long deep breaths) and we exhale for 4 counts through pursed lips, which provides a positive pressure. This breathing technique linked together with tightening of the abdomen during the inhale helps strengthen the diaphragm.
Test your own breathing. Place one hand just below the rib cage and at the belly button. Only the belly should be rising and lowering – not the upper chest. Make your hand rise when you inhale deep through your nose and then drop when you exhale through pursed lips. That is the proper way to breathe. Breathing in the upper chest area requires using auxiliary muscles in your neck and shoulder and invites rapid shallow breathing, which can lead to shortness of breath.
The trainers will tell us to take a deep breath the whole time we slowly lift our leg (4 sec)and breathe out while we slowly lower our leg, or arm. The problem is they want us to take in a long 4 count breath…and a long 4 count exhale. Meanwhile, we are gasping for breath and literally taking two breath cycles to their one…. It's actually kind of comical as I observe new arrivals struggling to breathe at the instructed rate before realizing they have to breathe with their own pursed lip breathing pattern in order to prevent panic shortness of breath.
So, long story short…we turn out heads left and right…up and down; raise our trembling arms and legs; march while laying on our backs with our feet up in the air; raise our butts and make the best arch bridges that even the US Army Corps of Engineers can't compete with, and do whatever our trainers instruct us to do…within reason… for one entire solid hour until "It is finished!" Okay, so it is not aerobics or cardiac stress we are engaging in, but by the time we finish, I know I have stretched muscles I never knew I had and in some way, it feels pretty good. At least right then. Now tonight, I may think differently. I lay there and wonder how did I ever find myself in this predicament, but I know it is all for my own good. What we sow….we reap, and I am paying my dues for some unhealthy eating and lifestyle that caught up with me in a big way.
After floor exercise, we (or rather everyone else) must wipe down their equipment and mats and return them to the storage locations. It is not easy to pull an oxygen tank AND juggle a couple of mats, two leg weights and two hand weights and stop and clean them before hoisting them up on the storage rack. (Yep, I figured there would be a whole lot less energy involved in rolling up my own personal germ-covered mat real quick and carrying it by the strap over my shoulder. I'm also not real patient when it comes to waiting my turn and fighting for position…)
We return to our seats and take a break. Many folks like to pull out an energy bar, a bottle of water, some fruit or some yogurt. A little pick me up. I generally just swig a little water, gnaw on a couple of nuts and I'm ready to go. I'm on a roll, I want to get this stuff done, so I can go home and sleep! (YES, sleep!)
This is part 1 of a day in the life... This is only the first set of exercises as there are a few more. To be continued on the next post.

Celebrate Life,
Alma